PANIC! AT THE DISCO: BRENDON URIE interview [ 2006 ]
because i've written randomly for different publications in the past, most of which i don't write for anymore... i thought it would be nice to post all my interviews together so i have some kind of archive of them. so this is my panic! at the disco interview from last year (2006). my myspace blog tells me september 6th? so possibly was then. their show was october 2nd so that sounds about right.
i never actually wrote for groove guide, but i got asked as a favour ;) by panic! at the disco's new zealand record company to do this interview specially.
please don't copy and paste any of my interviews anywhere unless you credit, i prefer direct linkages please. just because i put a lot of effort into these so i would appreciate it if you respected my wishes. thanks heaps =]
[ THIS INTERVIEW HAS BEEN EDITED DOWN TO 500 WORDS & PUBLISHED IN 'GROOVE GUIDE'. FREE NATION-WIDE, FROM THR 4TH OF OCTOBER TO THE 11TH. 2006. ]So, you'll be in New Zealand in less than a month now, are you guys excited about visiting our part of the world?
Definitely. It's been something that we've been talking about for the past year you know, visiting Australia and New Zealand so we're really excited to get over there. We've never been (there), so.
Are you planning on a holiday while over here, or will it be work, work, work?

Most likely, from our experience, the first time over is usually you know, work, work, work. The fun comes later. But that's all good, we're just so happy to be (coming) over there and see what it's like.
What can your New Zealand fans expect from a Panic! At The Disco show?

Well, we don't ever just get up on stage and put on a t-shirt and play how the CD is. We're more interested in giving people something more entertaining. More interesting, you know. As one thing, we dress up. We find it a special occasion to dress up. We raise the songs a little differently. On the last year here in the States, we got a dance troupe to come with us, I don't know if we're going to be able to bring it over this time, but maybe next time. So I guess, expect that.
I'm not sure if your aware, but in New Zealand, what actually happened was that some of your fans sent in songs to a local radio station, even before your record company... How does that make you feel?

That's AWESOME! I'm glad to hear it and I'm flattered. Yeah! We're VERY excited to hear all this news. All this news is like very GOOD news. It just makes us more and more (excited), we were already SOOO psyched up going and now that we hear about all the support that we're gonna have and how it's gonna be so great. I'm just REALLY excited to get over there.
Is it ever difficult singing Ryan's lyrics?

It's gotten a lot better now. It's just you know, understanding each other. When we were writing the record, it was hard to get across, you had to sing the lyrics this way and I couldn't sing the same so, that got kinda of frustrating. But I find it a lot easier to sing his lyrics rather than me writing lyrics, just because he's a better writer with words. You know, I'm not very good with words. He's a better poet. He's very clever. I find it pretty easy to believe in him.
Do you think, you and Ryan have a Pete Wentz / Patrick Stump kind of relationship?

Yeah! I mean it's kinda the general, same general idea. With the lyrics.
How's Ryan's singing, shaping up for the next album?

Yeah actually me and him have been working a lot on it. I mean I know I'm not the best singer or the best teacher but me and him have kinda been working with each other and been showing him some exercises, kinda. He's been seeing a voice teacher so I think me and him will hopefully be able to collaborate more with vocals, back and forth with each other that would be great.
What direction is the next Panic! At The Disco album going to be taking?

Uhm oopphhh. I'm not sure, we haven't really written anything. We've been, you know throwing around a few concepts. Like I just sat down with Ryan, had some dinner, we talked about what we were looking for in the album. I guess, you know expect the unexpected I guess. That's all I can say. Don't expect too much synthesised, pop songs. Expect something different, interesting and all round fantastic.
So what kinda of time-frame are we looking at for the release or the next album?

If everything goes according to plan... I would say, Summer of next year? Possibly around then?
Do you ever find your age working against you?

Uhmm... I mean... People can like, judge us for no reason and stuff. We just, think its because, only because we're so young and we've already gotten, this far so you know... In TEN more years where are we gonna be from there? And hopefully we'll be able to keep it going and following it... We're pretty young so... and everything's, we have the world in front of us and our lives. We have no idea where this is (going), it's all pretty exciting cuz yeah were young but. Well! *laughs*
Do you find it hard to get people to take you seriously because of your age?

Uhm sometimes. There's a lot of critics that will say that this band is a bunch of teeenyyboppers or some emo, punk-rock kids and that's their take on it. But that's okay. It's messed up. But we know what we are and we know what we like. We know we're not kids. I mean we're writing music that some bands older than us are really into.
What's your take on the "emo" debate?

*laughs* I think it's kinda funny. I mean it can get kind of annoying sometimes but I think its really just kinda a joke... It's like. We don't think of ourselves at emo at all. Definitely not. We're generally based in ROCK music, which is such a broad term. But to us it's just a label that fits a lot of bands that are, really BAD so it's, you know kinda an insulting thing to be called emo sometimes. But yeah it's weird, people seem to.
Your bio states that Panic! At The Disco is not a trend. Why is it, that you have succeeded where so many other bands have failed miserably trying?

*sigh* That's always. A tough. Question. To Answer. Uhm, I'm not sure. I would like to think that it's because of, probably our FANS. And that our music actually means something to people, that we actually have a message, getting out there. Yeah that's one of the positive things. That's what we like to think. But I mean I can't really say for sure. It's all up to the fans.
Speaking of fans! What's the strangest gift a fan has ever given you?

Ugh I've been given a lot of weird stuff. We have a lot of creative fans. *laughs* Very imaginative... I was given cookies! Which is the reason why I don't eat food baked by fans anymore... Some-one gave me cookies with individual hairs baked into 'em probably by the person who gave them to me and that kinda freaked me out.
Have you got any weird talents or party tricks?

Weird talents?... Uhm. I don't think so? Most of my talents are based around music so nothing would really be out there or weird I guess. But I play a lot of instruments but they don't have anything too weird to 'em.
I have to ask... What happened with the flying bottle at the Carling Weekend: Reading festival?

Uh, I... Well! We got on stage. We were playing the main stage, in front of, you know I guess like 80,000 people. It was pretty massive. Like 100,000 people. And uhm we got up there... About thirty seconds into our first song: The Only Difference... Pretty much. I think the first thirty seconds, people were throwing bottles and we were swatting them away, you know trying to dodge them and stuff. They got close a couple of times. But then you know, not until the second chorus they had ah tagged me right in my temple of my right side, like in my eye! And it knocked me out cold for a few seconds. I guess I was on the ground for a few minutes. So yeaahh. So yeah. I mean I got knocked out and then we got up and finished the rest of the set. So, it was kinda crazy.
Your probably incredibly sick of being asked about it... But what was the situation behind Brent Wilson leaving Panic! At The Disco?

Oh! Uhm well. Basically ah where we were headed as a band at that time, the direction we wanted to go was like just... we were tying to improve musically just, it was basically a musical decision. But he! Didn't really seem to take interest in the band. He wasn't interested in what we were doing. Never asked us about anything, unless, he was getting you know PAID or anything like that. He just, didn't really talk to us after a while, so we just kinda left him to himself. At the time, we were talking to Jon, our new bass player and luckily we had him. Or we'd be lost right now. So, we let him (Brent) go and he's unhappy about it, he's not on the same page as us and he didn't play on the CD. Jon's doing a GREAT job.
Is it true that you played all the bass parts on the album?

Uhm. That IS true, actually.
So Jon Walker is officially part of Panic! At The Disco now?

Sure! Yeah we think of him as our new bass player. He's a very good friend of ours.
Do you have any advice for aspiring bands hoping to get their lucky break through the internet as well?

I guess it would be spend more time on writing your music and perfecting that rather than going out and playing shows to people who don't care about your band and never heard about it except for like as an easy way. Practice on the music cuz that's the most important part.
Who's idea was it to actually post links to your purevolume page on Pete Wentz's Live Journal?

We had all talked about it together, after we had made the demos on our lap-tops. And we just kinda told Ryan, you know. Ryan had actually been looking at a few labels and Ryan posted them. He physically posted them (the links) on uh, Pete's Live Journal. And after that, Pete contacted all of us, was like: "Heyy.. I'm gonna come down and watch you guys." Cuz they were in L.A. which is like four hours away, recording their album so yeah.
What was it like singing on Fall Out Boy's: 'From Under The Cork Tree' record?

That was awesome. At the time I was working in like this really shitty smoothie hut and I was still at school. There's like this really low point where it's like UGGHHHH THIS IS SOOOO LAME, you know. We had just been talking to Pete for a little bit and I got a call from my work from Ryan and he was like: "Hey! Pete wants you to go down to California and sing on the album." That just came as a TOTAL shock to me. There was no snobbery. They liked the band. They were just really, really nice guys. So it was really cool and they were, very generous. That was the like first time I met Patrick and it was awesome! It was just really cool, great to join in on that.
If you weren't in Panic! At The Disco, would you possibly be: Brendon Urie, the lawyer?

*laughs* A lawyer?!! Definitely NOT! I flunked high school. I almost failed cuz I did SO bad. If it weren't for my teachers who were so nice, forgiving, passing me! But I uh, would PROBABLY be in hair school, right now doing cosmetology. That was what I was gonna do if I wasn't in the band.
What was it like being brought up by devout Mormons?

Actually at a younger age it was great! Just because of the camaraderie in there. But I mean, it was very, VERY strict. And there were a lot of regulations and rules. But uh, it was very comforting you know. It wasn't too, bad. 'Til you know, I got older and I started thinking for myself. I actually made my own decisions. So, you know. It was fine when I was younger but now, I'm my own person. It's not for me!
Were/are your family and friends supportive of the band?

Oh yeah. They were VERY supportive. I, I still live with them. So I hang out with them every night. We're like, all really good friends now. But it has... When we first started talking about the band and everything, they were pretty upset I wasn't going to college. But after a while, the ball started rolling, like a free tour and everything. They were really supportive. They always come out to all the shows we play here. Buy all the merch. Even though I can give it to them, for free! They're still supportive and it's awesome.
Were they proud of your MTV Music Video Award win for, Video Of The Year (with 'I Write Sins Not Tragedies')?

Yeah! Actually they all went to my sister's house. Kinda invited all the families over and just, I guess celebrated. Had a party, watching the MTV VMA's.
How did it feel winning Video Of The Year, plus being nominated in four other categories at the MTV VMA's?

That was. Uh. Just. SO. Shocking. We went up there, dropped. My jaw was just. On the floor. It was so surreal. Like we didn't think that we could win any award! Let alone the, Video Of The Year award. That was INCREDIBLE yeah.
The founding members of Panic! At The Disco, supported Ryan while he coped with his father's alcoholism. Has that affected the band?

I think. The only person that drinks in our band is Jon, our bass player. But he doesn't, he actually rarely drinks. I rarely see him drinking. Spencer, Ryan, we don't drink. Just not really, what we're into. We're not really a big drinking, party band.
So... Panic! At The Disco is about rock & roll, minus the drugs and the sex?

Pretty much hehe! We're just about the music. That's what, really interests us. We're not, into drugs or anything. Or drinking.
You were forced to choose between college and the band. What made you decide on Panic! At The Disco?

That's easy! Leave school. There's nothing I would rather do right now.
If you could pick the playlist for your life currently, what would be on it?

Well, I dunno... What songs would it be?... I guess... Uh.... Maybe Penny Lane or Sergeant Pepper's Lonely Hearts, by The Beatles. Motorcycle Drive By, by Third Eye Blind. And Don't Stop Believin', by Journey?
What's it like being part of the Fueled By Ramen family?

It's awesome! We love, everybody over there. They've always been so supportive of us. Especially when we were first getting started. They were SO understanding, of our situation. It's always been great. Whenever we see 'em, it's just like a big happy family ya know.
Does it make you proud, seeing other FBR bands such as The Academy Is... and Paramore taking on the world as well?

Ah definitely. I mean we're really good friends with both of the bands. So anything that they're gonna do, we're gonna support. So yeah.
Pete Wentz... What's he really like?

He's awesome. I love him. I love hanging out with all the Fall Out Boy guys. They're all really nice. Really good friends of ours. We've played at festivals with them. All I did was hang out with those guys. And a couple guys from Dashboard, but mostly just Patrick. You know just hangin' out, pretty cool.
What's the inspiration behind Panic! At The Disco's, very colourful image?

Uhm, I dunno... I mean, I guess. Just us being together and we're kinda attracted to the kinda idea... I mean, I guess it's the appeal of. The whole. Burlesque type. You know, Moulin Rogue kinda thing. We're all influenced, we all have our different inspirations. We all, put it into the melting pot and kinda mix it up.
How did Panic! At The Disco come together?

Spencer and Ryan, drummer guitar player(s), have known each other since they were like five and they started playing together when they were like thirteen. And uh they met, our ex-Bass player, Brent, when he went to high school with them I believe. They had a different guitar player at the time and Ryan was singing. They were under a different name. Then! Brent was transferred over to my school and I met him in my guitar class. And he asked me if I wanted to come over and you know, check out his band. He was a pretty good guitar player, so I was like... Yeaahhh... Okay I'll come over and check out your band. Don't know if I wanna be in your band. I wasn't really sure at the time and I played a couple of times with them and uh then after that. I started singing. And that's just kinda felt more together, natural.
Where are you currently?

Like literally? *laughs* We're all in Vegas. And our bass player is in Chicago, where he's from.
So you guys are just chilling at home?

Yeah! This is the first time in a year and a half, that we've actually had to have time for ourselves without, you know going and playing shows anywhere and being on the road. So it's really nice to be home and kinda feel normal I guess.
What's your life like outside of, Panic! At The Disco?

Honestly? It's gonna sound lame but we either just hang out by ourselves at our houses or we hang out with each other. It kinda sounds dumb, but yeah. The only person I've hung out with since I've been home, is uh, Ryan. We hung out a couple of times, but that was about it so yeah.
How is Ryan dealing with the death of his Dad?

He's dealing with it very well. Very mature. It was just such a big loss for him. Kinda devastating. But he handled it very well. Very mature.
Is it tough, having to spend so much time on the road away from home?

At a point, we do get kinda home-sick. Especially now, you know, we hadn't been home in such a long time, just touring. So after a while, when your on the road you want to be home. And when your home, you want to be on the road again! So I guess, it's really a 'you' kinda thing.
What's the best thing about being in, Panic! At The Disco?

There's really nothing bad about being in Panic! At The Disco. It's us, being best friends and playing musical instruments!
Describe a day in the life of, Panic! At The Disco?

Well. Pretty short. Pretty boring. Wake up. Go soundcheck. If we have time, watch a movie. Play a show. Then go to bed haha. Okay!
If you could have super-hero powers, what would they be and why?

Super-hero powers. Oh wow I dunno. I've idolised a lot of super-heroes, like X-Men, like Wolverine and Batman, for a long time, like since five. So I guess, I'd have one of their powers. I'd go for X-Men. I'd like to be Wolverine, personally.
You know your famous, when...?

You know, your famous when... Your sitting next to Paris Hilton at the VMA's!
How does it feel knowing 'A Fever Can't Sweat Out', has sold over a million copies since its September 2005 release?

I don't think I've had time to really take it all in. We were so busy, we were on the road at the time, so it was AWESOME to hear that! We were SO shocked. We didn't think we would sell even a quarter of that. It was. Really. Awesome.
What was it like being signed and having recorded your first album, even before your very first live concert?

Uhm, I can't really say cuz we never played shows before we were signed. So. We've never been on that end of the spectrum. There was a lot of, pressure. To you know, sound GOOD: "Ew, the dude from Fall Out Boy signed these guys and they've ugh never played any shows, let's all watch them for mistakes." That was kinda nerve-wracking for the first couple weeks, for the first tour. But, after a while you get used to it, now. I think it's all very natural, very organic on stage. We've been playing a long time with each other, so it's good.
How do you manage to translate the rich musical tapestry of your recorded album, on-stage and into your live show?

All our outfits are diverse, we have a bunch of different songs that we wanted to add something extra to... the last past couple of tours, we've headlined! So. We've been adding a bunch of background props and we also brought out a dance troupe, from our first video, 'I Write Sins Not Tragedies'. They're called Lucent Dossier, and we bought them out with us and they did a couple of prop scenes in between songs, a couple of skits... it's really cool. The kids seemed to like it yeah.
Where do you get the concepts for your music videos from?

Well the first one, we sat down with Shane Drake, the director, and he just started pitching stuff to us and it was kinda leading into this carnival direction looking. Like we wanted MIMES and people dancing round! We wanted something different. And he had this whole, mimes and wedding kinda take. So. He was also drinking lots. He was drinking heavily... So it was kinda falling out of him.
Future plans for Panic! At The Disco?

Well, we're taking this month off then coming over to visit you in New Zealand and Australia, in October. And Europe.

PLEASE NOTE THAT I DID NOT CHOOSE THE PICTURE. NOR DID I GET TO WRITE THE HEADLINE/TITLE. TRUST ME I WOULD NOT HAVE PICKED EITHER.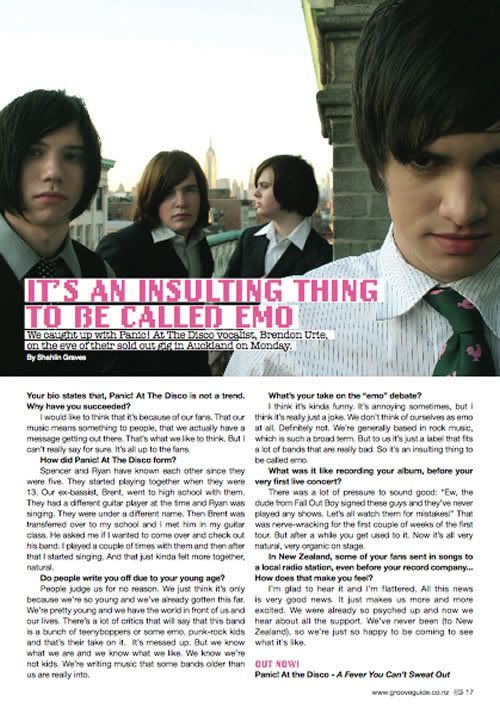 You'll
♥
Loading related posts from sailthru...